Quick Links:
 Fundraising Partnerships
Amazon.com
Already shop on Amazon.com?  If so, simply use this link to do your shopping, and Amazon will donate a percentage of your purchase total to the Ohlone PTA to fund our ongoing school support programs.
Restaurant Fundraisers
Questions or suggestions for great local restaurants?  Contact our VP of Ways and Means.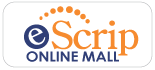 eScrip is quite possibly the easiest way to impact Ohlone's fundraising capabilities. It is free to you, completely safe and secure, and could result in thousands of dollars flowing directly to Ohlone. Click on the eScrip Online Mall button to shop online, or contact our eScrip coordinator.
Kepler's Books has generously offered to donate 6% of all purchases made by Ohlone supporters back to the school.  Simply mention Ohlone at the register the next time you are shopping in their Menlo Park store.  Thanks, too, to Kepler's for our fabulous fall book fair!